noProduktnummer: Rescue17
Brann og Rednings-skøyte
Flott og detaljert med realistisk vann-kanon. Lengde ca. 97 cm

The hull gleams, the lights shine — and the water cannon really works!
Authentically detailed - and ready for action!
It's a one-of-a-kind fireboat — and it's ready to hit the water just moments after it's out of the box. It's not just the only large-scale fireboat RTR available; it's also the only one that offers such a broad range of fine detail with the ease of factory installation. There are working lights in the cabin and on the communications mast, rotating, working water cannon on deck and authentic detail everywhere else you look, too. It makes superb scale details easy to enjoy — and it's so complete, all you add are batteries and a charger and you're ready for your first rescue mission.
Now with a Tactic TTX491 transmitter and TR625 receiver!
Length: 965 mm
Beam: 261 mm
Height: 432 mm
Weight: 3.60 kg

Requires: 11.1V 2200mAh LiPo battery, charger and (8) "AA" batteries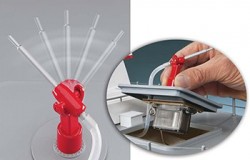 A high-volume pump on the forward water cannon lets you shoot a jet of water up to 10 feet (3 meters)! A powerful high-torque servo underneath rotates the cannon up to 120°.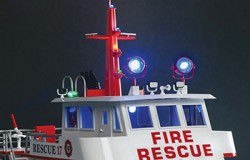 The light system includes separate switches for the interior and exterior lights. Working exterior lights include twin searchlights, mast lights and red/green nav lights for night runs.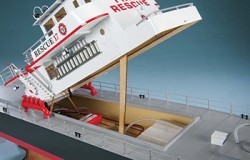 Releasing the latch makes the superstructure swing up and back for easy access and also makes a sturdy brace swing down and forward to provide support during pack changes or maintenance.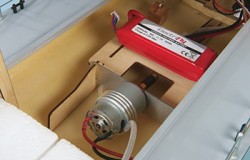 The Rescue 17 comes out of the box with onboard gear already installed in the hull.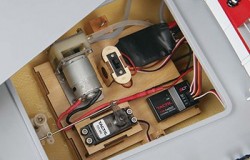 The waterproof ESC and a 600-sized motor push the Rescue 17 to faster-than-scale speeds.
With the Rescue 17, there's realism everywhere you look - and it's all factory-installed for your convenience.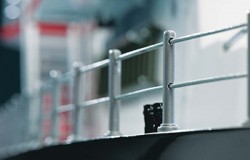 Wire rope deck railing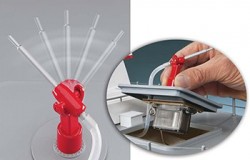 Functioning forward water cannon with high-torque servo for water cannon movement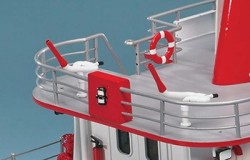 Dual water cannon* on the aft deck
4 deck lights and dual working searchlights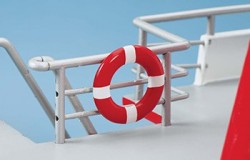 Life preservers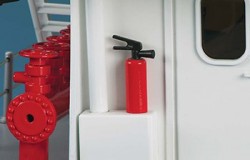 Fire extinguisher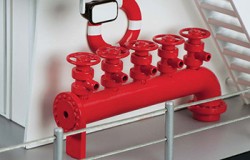 Standpipes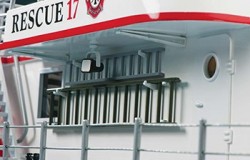 Fire Ladders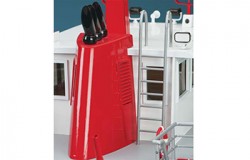 Fixed Ladders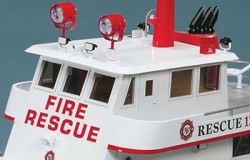 Windows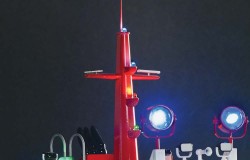 Communications mast with radio antenna, radar and LED lights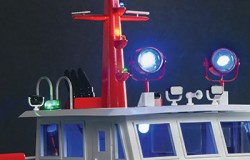 Red/green nav lights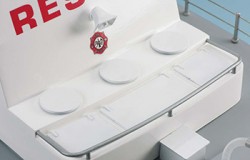 Hailing loudspeaker*
* = For display only. Non-functional.

TTX491 4-Channel 2.4GHz Radio
Simple, straightforward and affordable, the TTX491 offers the ease of 2-stick control and two auxiliary channels for added functions. Servo reversing switches speed installation; digital trims let you customize performance and feel to your tastes. It comes with a 6-channel TR625 receiver. It features a push-button that creates an instant, unbreakable link between itself and your transmitter and prevents it from recognizing any transmitter except yours. Twin coaxial antenna ensure excellent signal clarity, even at the outer limits of the TR625's range.

Dependability-protected by the SLT Protocol.
The Rescue 17 includes:
Painted, joined fiberglass hull, deck and cabin with numerous factory-installed details, including: wire rope deck railing, ladders and companionways, standpipes, searchlights & more
Working water cannon that rotates 120° and shoots a jet of water up to 10 feet
Brilliant, 10-piece LED lighting system with mast, nav and deck lights, dual searchlights & cabin lights, plus independent interior and exterior light switches
Tactic TTX491 4-channel 2.4GHz SLT radio with TR625 receiver and rudder and water cannon servos
Factory-installed power system including:
600-size motor
Multi-motor controller with Star Plug
Drive system
Display/workstand